No tricks or treats...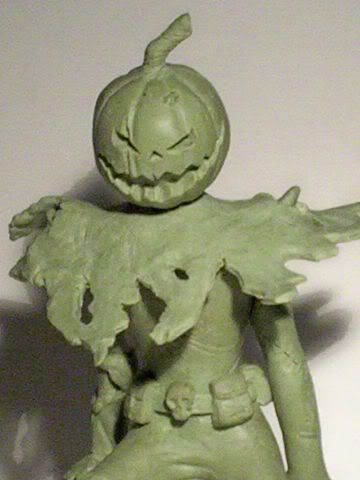 Helloween Jack
is not here for your treats, he is here for your soul.
I sculpted this creepy pumpkin headed figure based on the character created by my bud Roger. When I saw the concept my bud did it for this character I just thought with myself "Man I gotta sculpt him, he is so cool looking, and would make an awesome statue!" so I did, and only after I have finished Jack, I showed to Roger and I have to say that oh boy I was afraid he wouldn´t like it, but he not only did it, but he also gave his thumbs up (pheww). Jack stands 8" tall, sculpted in hard Castilene (as always). I will post full body pictures of him as soon as I finish retooling the base, as me and Roger thought it could have a few more details on it for coolness. This dude will be cast and painted later.
Hope you like it. ^_^
laters